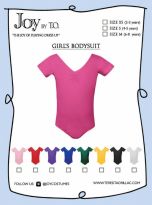 Girls gymnastics leotards are one of the most important things for a little one who has just started to know what does it mean to have a wardrobe full of appropriate clothes. This is one of the most essential pieces of clothing in a gymnast's collection of suits.
Looking for a perfect leotard can be a tedious and long process that may consume a lot of time. These pretty suits can be quirkily added to both dance practices and performances. Leotards being one of the most essentials add-ons to a dancer's wardrobe, they can be a tough one to find. But there are a number of tips that you can keep in mind to subtle down these hiccups, keep reading to know more;
Reason: If you are looking for a girl's gymnastic leotards, one thing you would already know is that this bodysuit can be used for different dance forms on different occasions. So, make a choice depending on what are you buying the leotard for, is it for practice or a specific occasion. Don't blindly invest in an expensive one if it is needed only for practice. A good quality decent outfit will also work for that. It has to be durable and simple for practice sessions and something classy and style-centric for a special performance, buy accordingly.
The need: If your performance is with a company or a school, they will have the preference set for your leotard, you will have to match those set requirements, so buy one keep that in mind. Try not to hassle around with what to buy and what not to, you can just simply boil your research for your girls gymnastics leotards by going through the instructions. Check what is preferred in the list and what is mandatory or if you can play around with the style, colors, cut, designs, etc. Several schools today encourage equality and want that all the gymnasts should wear leotards that do not look different from each other to avoid complex. In a situation like this, it is best to settle for solid colors and some classy patterns and frills.
Features: A girls' gymnastics leotards do not necessarily need to be of a common size like other kids, it may vary. You can either buy a leotard and later make it a fit according to the body size of your daughter or you can buy a readily available fit. Read into every detail specified and consider each one so that you can easily choose what suits the body type for your little one. You can add an extra lining, chest pads, shimmers, laces, etc.
Styling: Girls Gymnastics leotards are available in a wide range of fashions, styles, patterns, and colors, if you have set standards with you, it'll be easier to choose from the spread. You can pick a leotard from a short length, long length, with or without sleeves, sequined or simple, camisole or halter, etc. There are all kinds of girls out there some like to show a little body part and some like it all covered, choosing the right design and style is the key to your comfort. The variations in leotards are in plethora as well, there is a straight neck, round neck, scoop back, etc. It is important you choose the right design for your girl that suits her requirements and looks the best for her body type.
So, it's time to find the right stores online and offline to buy your girl what suits her the best. Don't feel that if you overspend on a dress it means it is good, at times you find high-quality leotards in the most basic range, so make your purchase wisely. Use all the above-stated points for a better shopping experience and it will not be difficult for you to choose your girls' gymnastics leotards in your budget.